Instant Messaging Traces
The following traces (libpcap consistent) which are available for the research community, contain Instant Messaging traffic only. Traces have been collected and organized with the support of the RECIPE (Robust and Efficient traffic Classification in IP nEtworks) and MIMOSA (MIsure sperimentali e MOdelli di traffico dati multiServizio A pacchetto) projects.
Instant Messaging Classification
In order to classify instant messaging traffic generated by most popular chat applications, we developed a plug-in for Tstat, which is able to recognize TCP connections, related to chat and presence sessions made by MSN Messenger, Yahoo! Messenger and XMPP-based IM applications (Jabber, Google Talk, ...). The following traces cointain Instant Messaging connections classified by Tstat, starting from the 96-hours trace captured on our campus main link. In order to respect privacy, IP addresses have been anonymized and TCP payload of packets has been removed, using Anonymizer tool. Traces are available in gzip format only.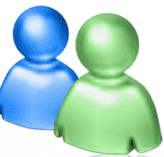 MSN Messenger Classification
| | Type | L4-protocol | L4-payload size per packet | Download Trace | File size |
| --- | --- | --- | --- | --- | --- |
| MSN Messenger | Login, Presence and Chat Sessions | TCP | 0 Byte | Download | 212 MB |